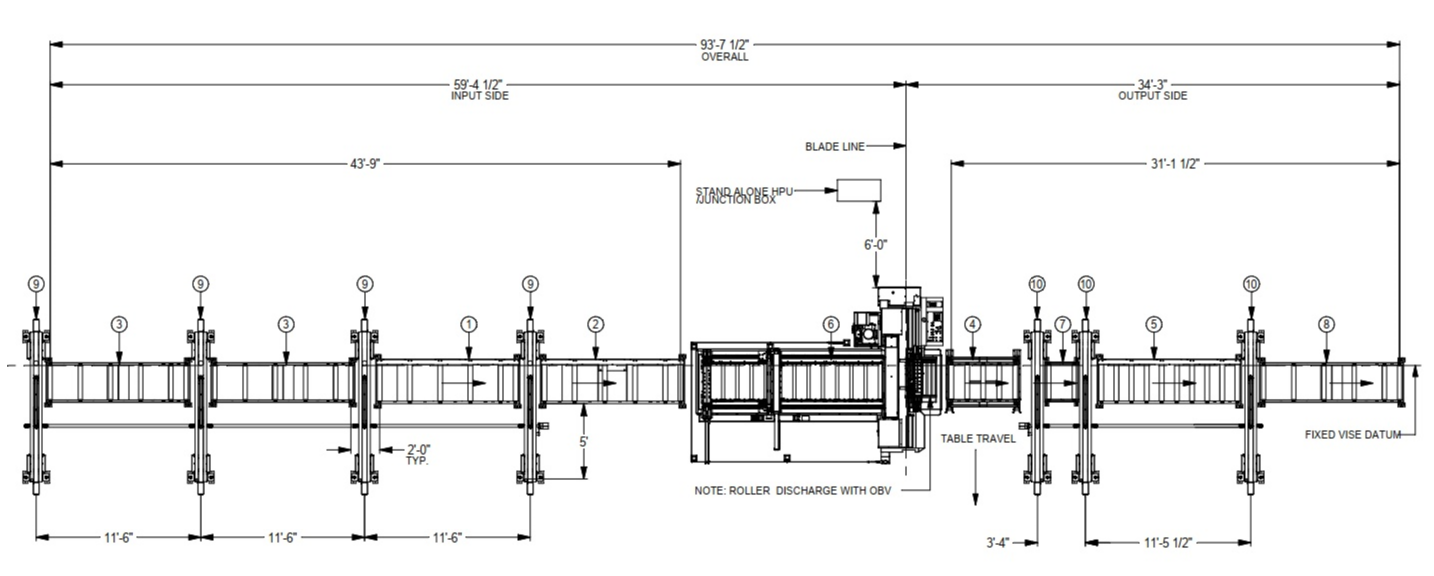 Project Summary
Having the saw operator leave the controls area after every material run, and operate a forklift to facilitate parts removal, might not seem like a big deal.  But suddenly, different size cuts have to be removed by different methods, resulting in multiple inefficiencies, including a reduction to material flow. Worker safety also becomes an issue, especially with an entirely manual process.
When engineering a new band saw system for this Texas based manufacturer, the owner turned to HE&M Material Handling Systems, for the design of its new band saw and Material Handling system. HE&M Material Handling systems are American made, designed, engineered and installed by our own staff of experienced employees.
The old system had several issues, including the following:
- 100% manual system
- No lift and carry transfer system
- Inefficient method to remove smaller cut parts
- Inefficient overall Material Flow
- Inefficient band saw
- Worker safety issues
The new Material Handling system for this Texas customer contained the following elements:
- WsF130HA-DC-CTS Dual Column Automatic Band Saw
- Input side - 43 feet of tabling with 4 material transfers
- Output side – 31 feet of tabling with 2 material transfers
 - Removable Side shift table, with small parts collection bin
HE&M Material Handling Engineered Solution
Typically, steel material comes in 20 or 40 foot lengths. This particular customer was cutting lengths anywhere from 2" to 15' in length, and the bulk of their cutting was 10" or under.
In designing the new material handing system, they wanted to safely remove the smaller cuts, and have minimal downtime while changing to a run of longer cuts.  In addition, these small cuts needed to be removed with a method that would not place the operator in harms way.  HE&M Material handling engineered a side shift table, with a small parts collecting bin.  This section can be easily moved back and forth (see images), changing functionality, serving both as a small parts collection bin, and as a part of the conveyor system.  As the small parts bin fills up, the operator can utilize the hydraulic system to empty the dump bin, allowing a forklift operator to transport the material for further finishing.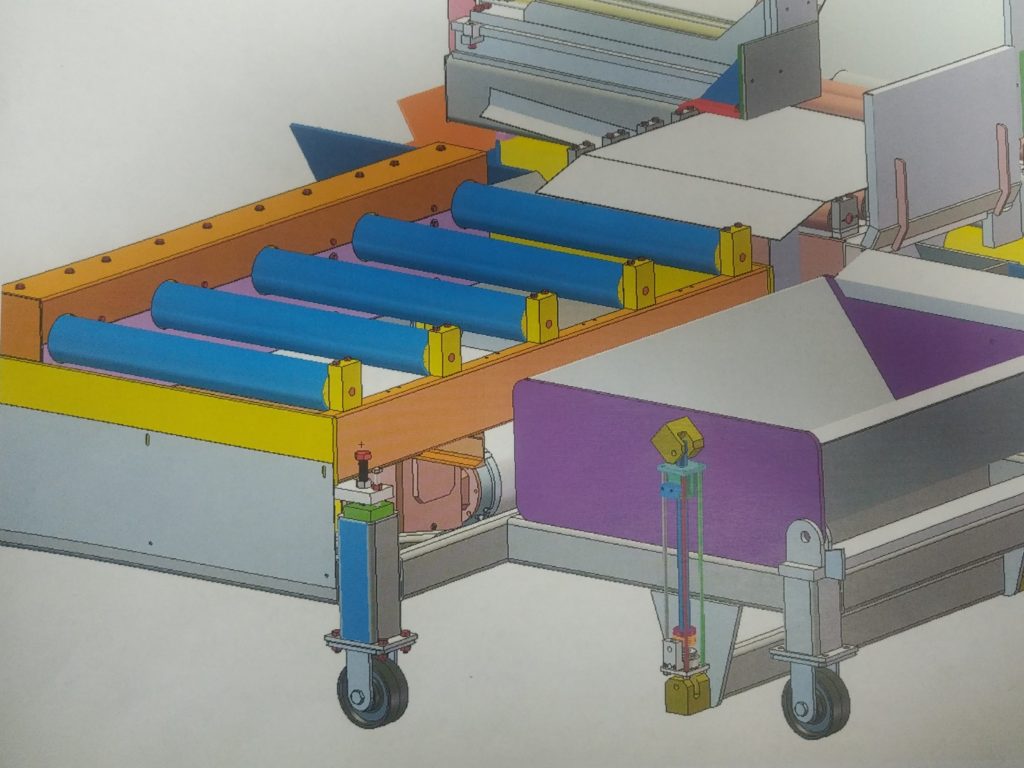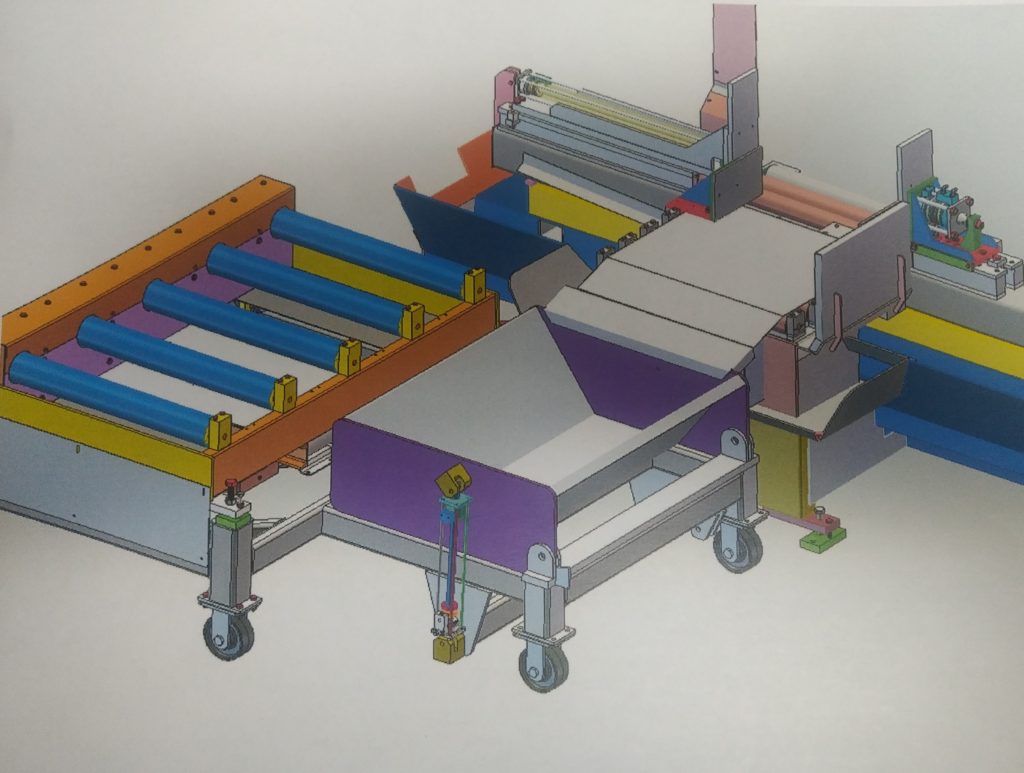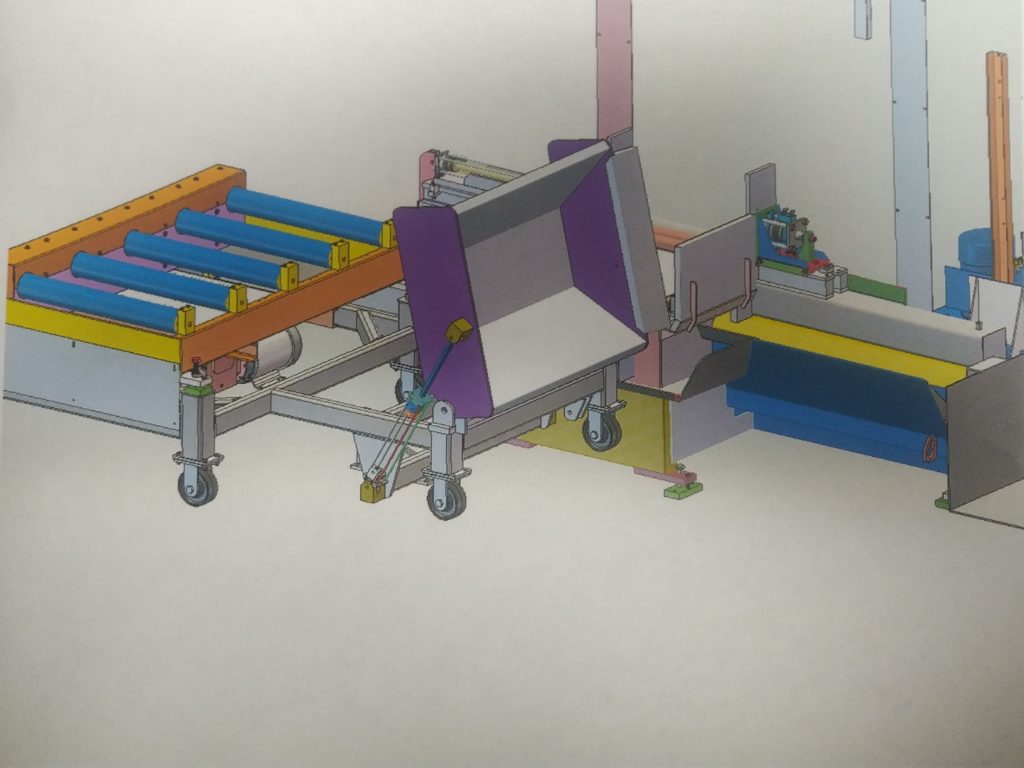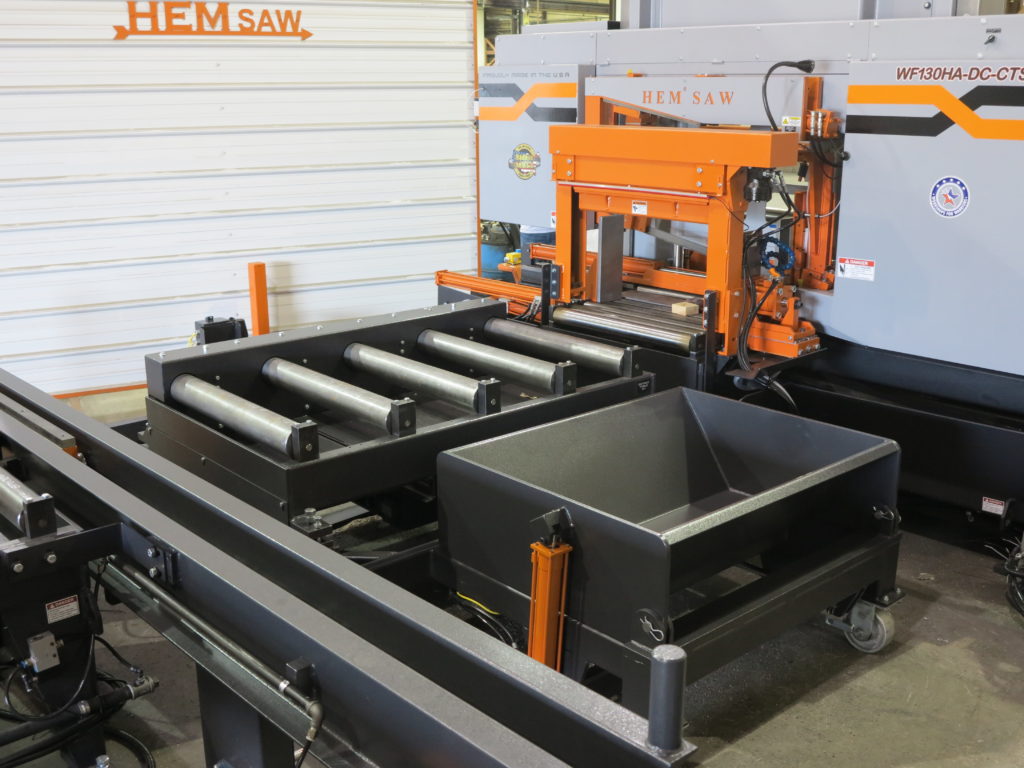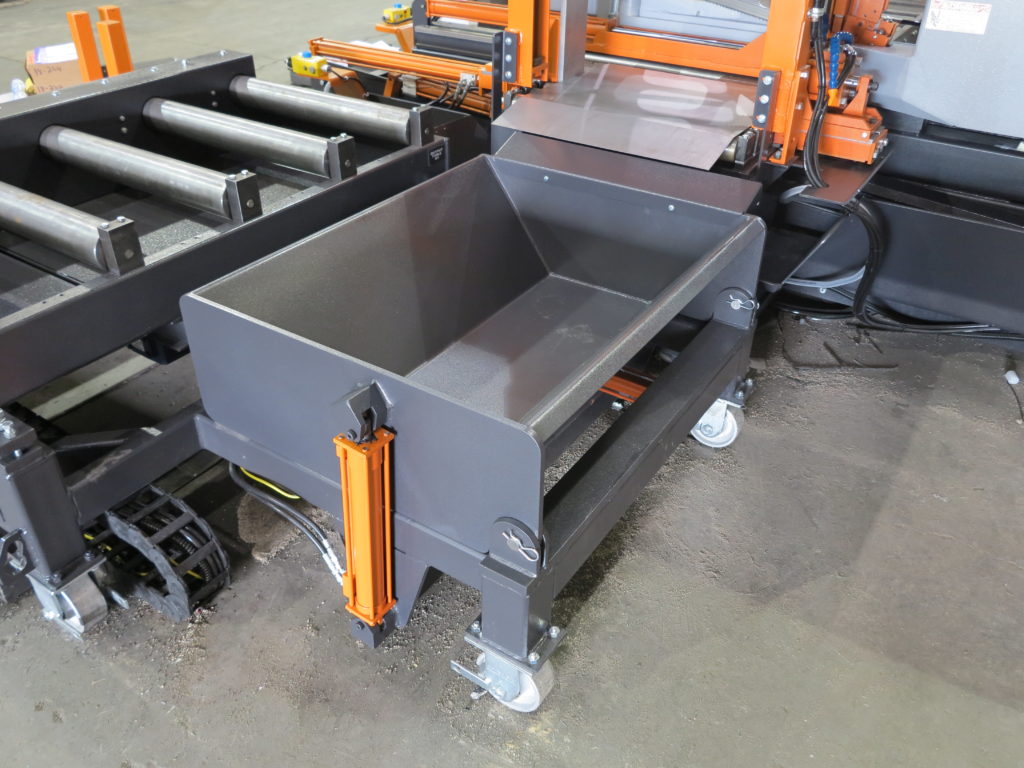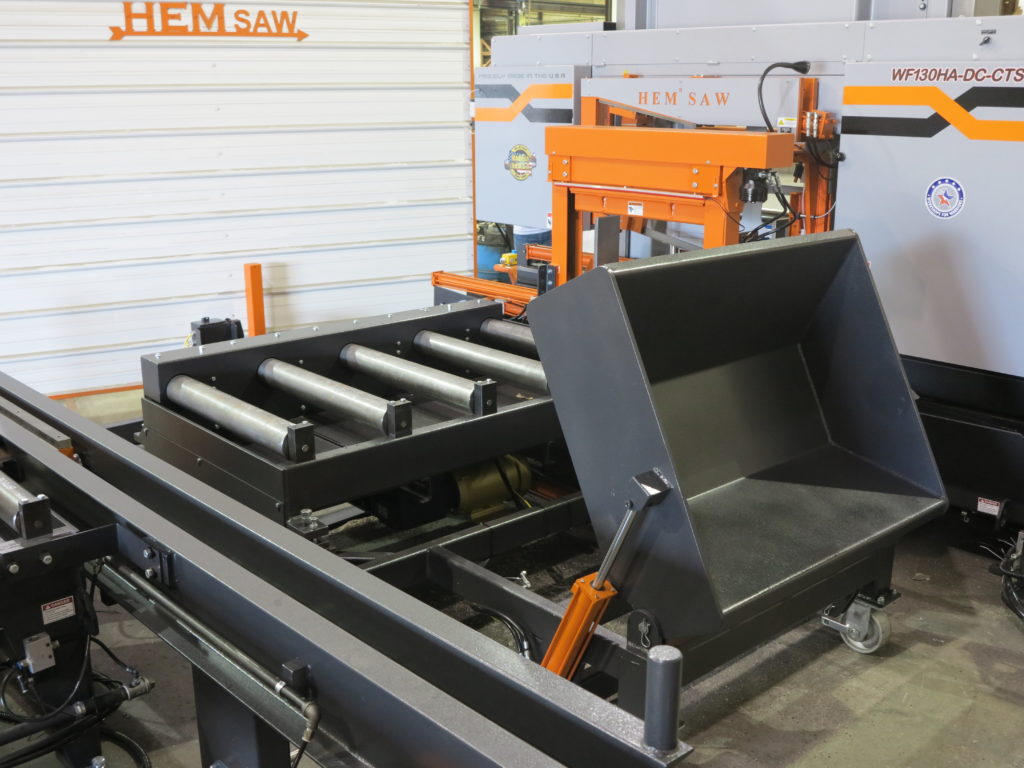 The previous manual saw was upgraded to an automatic saw with a 10" bar feed.  The input side has 43 feet of tabling with 4 material transfers.  No previous lift and carry transfer system existed, resulting in the customer processing one load at a time.  The lift and carry transfer arms are 2 legged, allowing for 8 feet of holding space from conveyer to edge of system.  Now the customer can stage three loads across the transfer arms.  The customer can now stage 2-3 loads for cutting, without the operator having to leave the controls.  Another benefit of the new system is bundle cutting.  The customer is now able perform bundle cutting more efficiently, which requires pressure from both sides and top, which this systems accommodates. The new system has a 120" ball screw feed on the input side, allowing for an 82 second cycle on a 10' bar feed, and can process 999 parts consecutively i.e. 9 runs with bundles of 10 each, dramatically improving the face cut efficiency, as compared to the previous system.  .
On the output side, the unloading system has a lift and carry transfer system as well.  Previously, the operator would have to leave the controls, and operate a forklift to clear the cut material.  With the new system, several runs can be made from input to output without leaving the controls.
Overall, this system has increased the customer's material flow by over 200% and has reduced waste product by over 30%.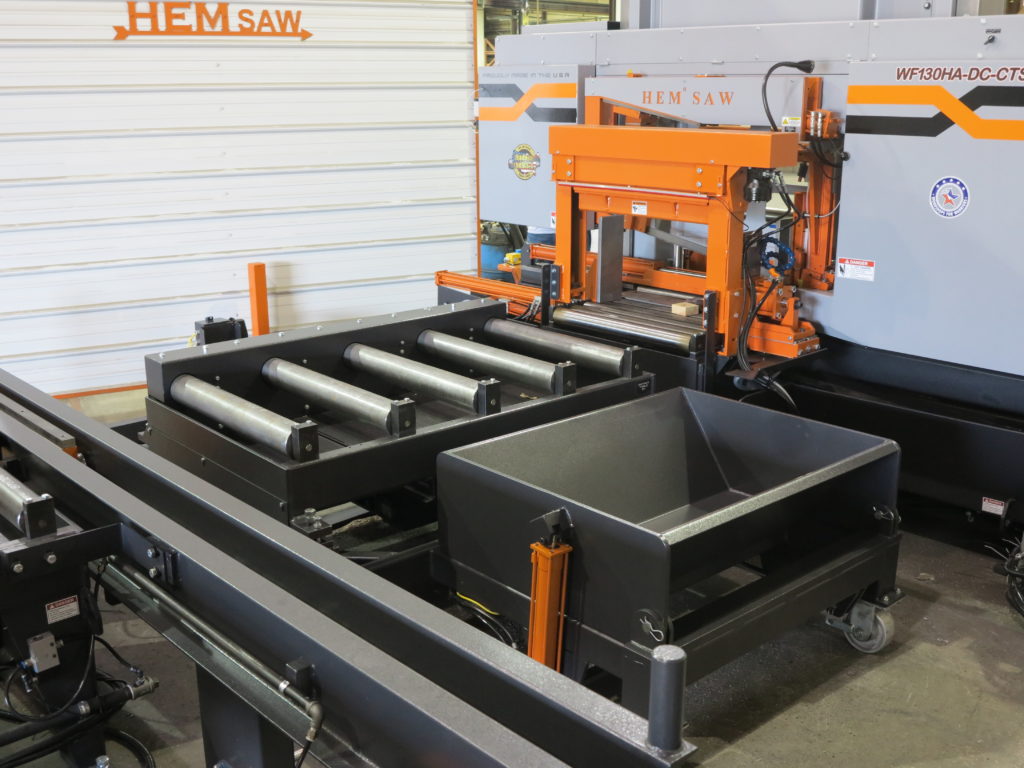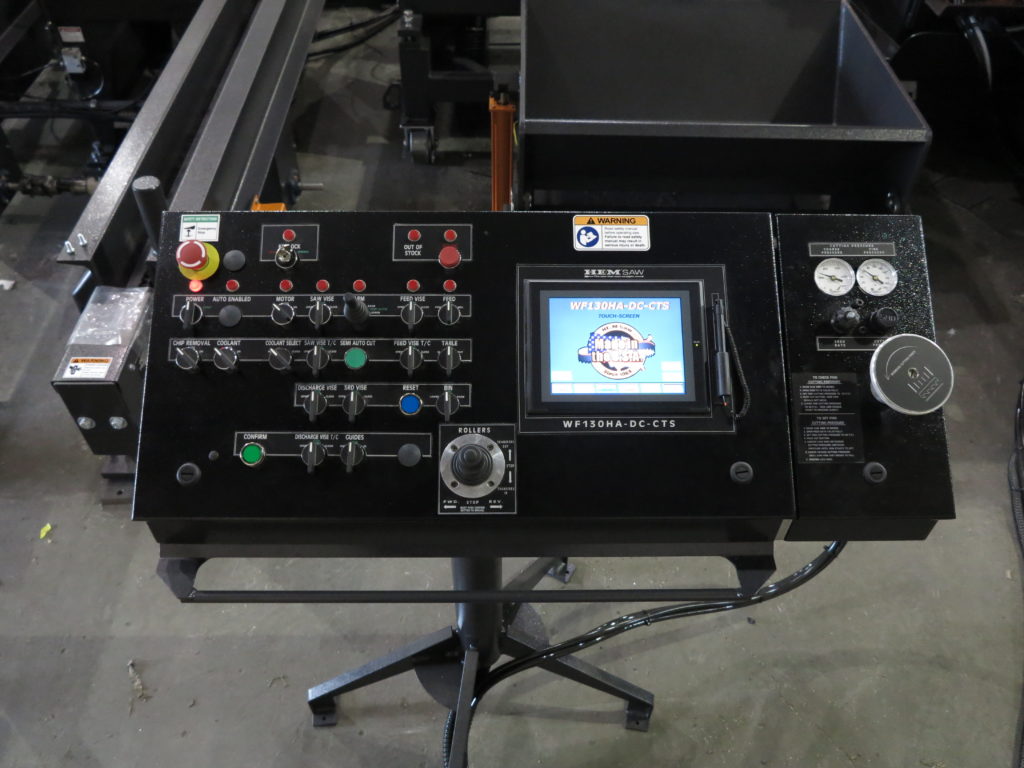 Contact Us For More Information