Project Summary
A large mid-west based Steel producer, measured success in many ways, including "tonnage" out the door.  They forged jumbo beams of steel, including products such as angle iron, I Beams and railway rails.   These steel products were cut from 60 foot lengths, down to 20 foot lengths, with a manual circular sawing system.  When it came time to purchase a new Material Handling System, they turned to the HE&M Material Handling division of HE&M Saw.
A state of the art Material Handling system was engineered, and had the following features:
90 feet in total length
Stage 2 Powered Conveyor System
No-impact Stop Laser Control system
14 Lift and Carry Transfer Arms
Protective Railing
Roll Around Control System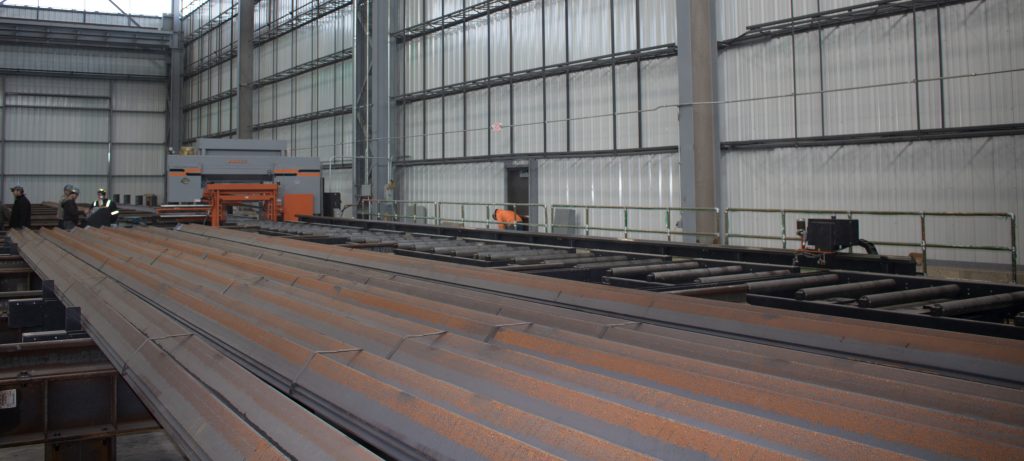 HE&M Material Handling Engineered Solution
One of the unique aspects of this system was the use of a non-contact laser measuring system.  Material handling systems for moving large steel beams traditionally contained a low impact mechanical stop.   Our system created an immediate gain in efficiency and accuracy by utilizing a multi laser non-contact device.  In the videos below, you can see the speed and accuracy of our design.
The new system triggers the material to slow down and coast, where it then moves 1 inch past the desired stopping point.  A second laser provides multiple instructions, including the clamping of material, and then reverse movement, back to the desired position, prior to face cutting.  In addition, our system has a roll around control stand, allowing the operator to have good visibility, while controlling the entire 90ft system.
HE&M Material Handling also designed the static holding arms seen in the below image and video.  These holding arms can accommodate 22,000 pounds of material, dropped from 2.5 – 3ft.  The resulting force from this drop is 1.4 million pounds of force.  The static holding arms were built with a  14" I beam, with rail on top, and rail can be replaced as needed.  The lift can carry transfer works within the static holding arms, and was designed as an integrated system.
The customer saw such an improvement in material flow with this new system, they have recently ordered a duplicate system to be installed in a similar area of their plant.  The HE&M Saw Material System has assisted them with the goal of getting more "tonnage" out the door, or as we like to say, helping them MOVE MORE STEEL.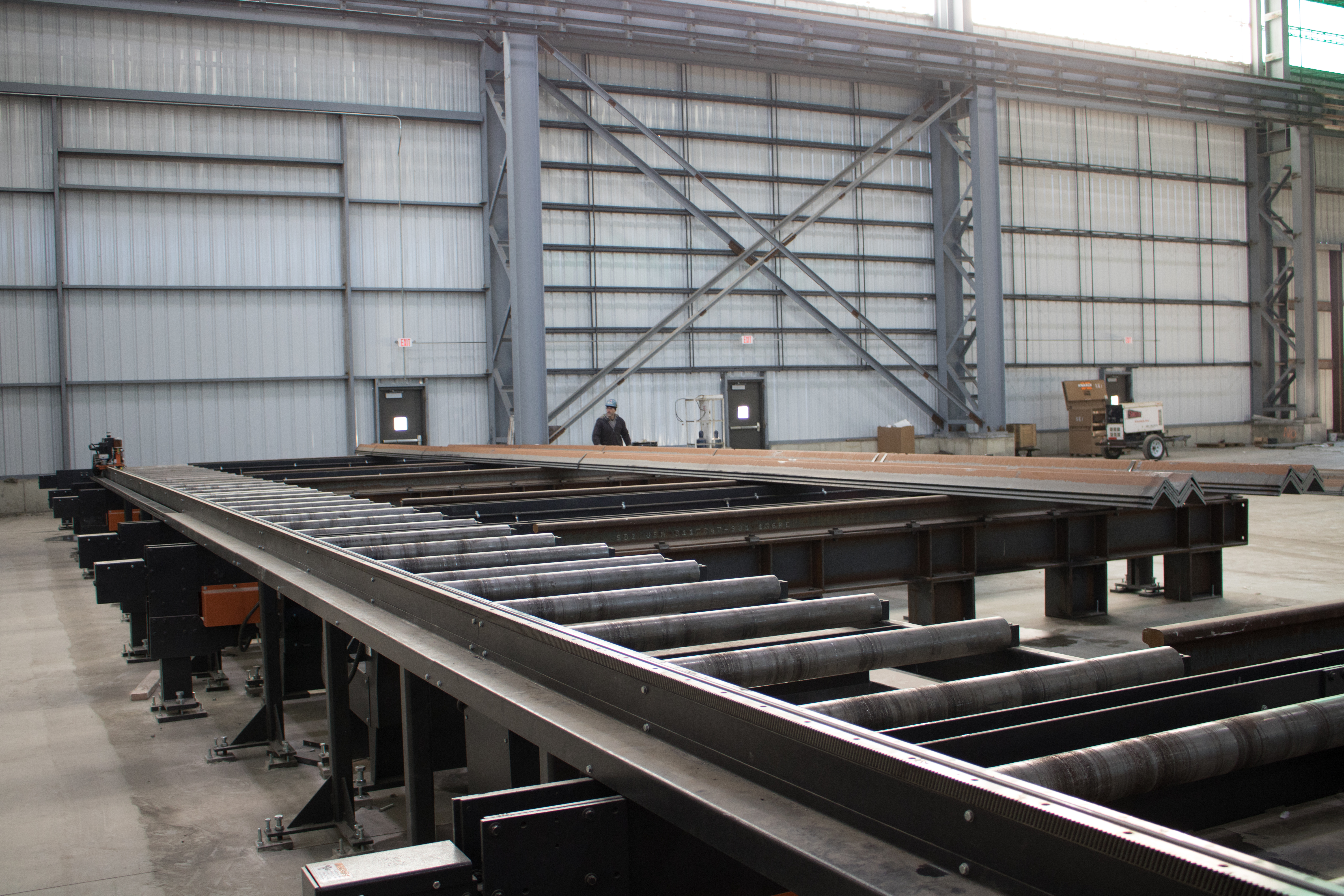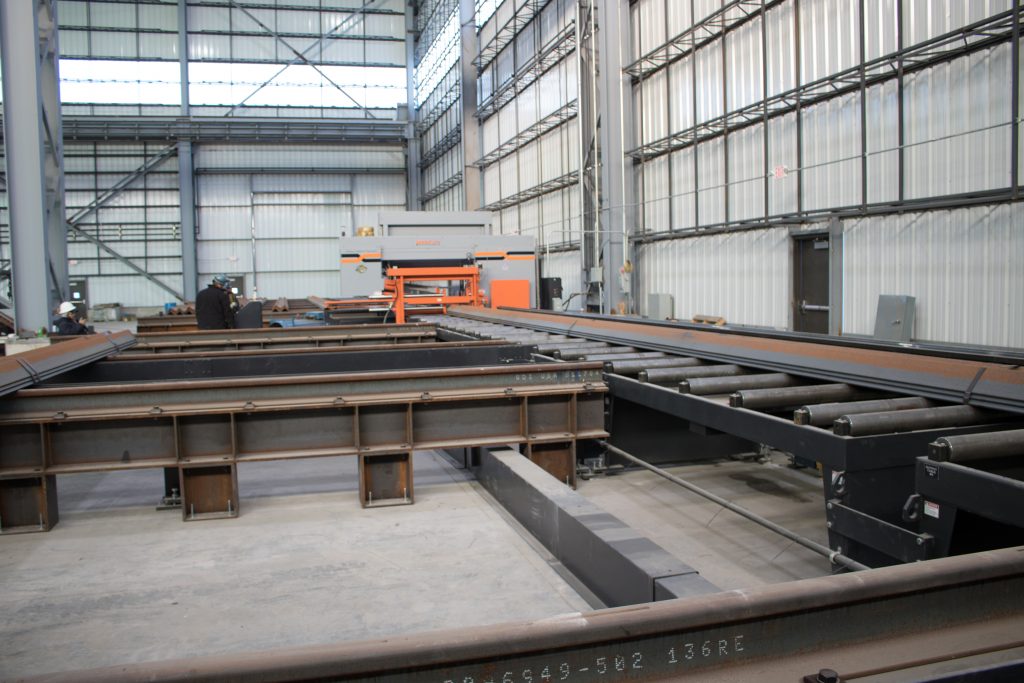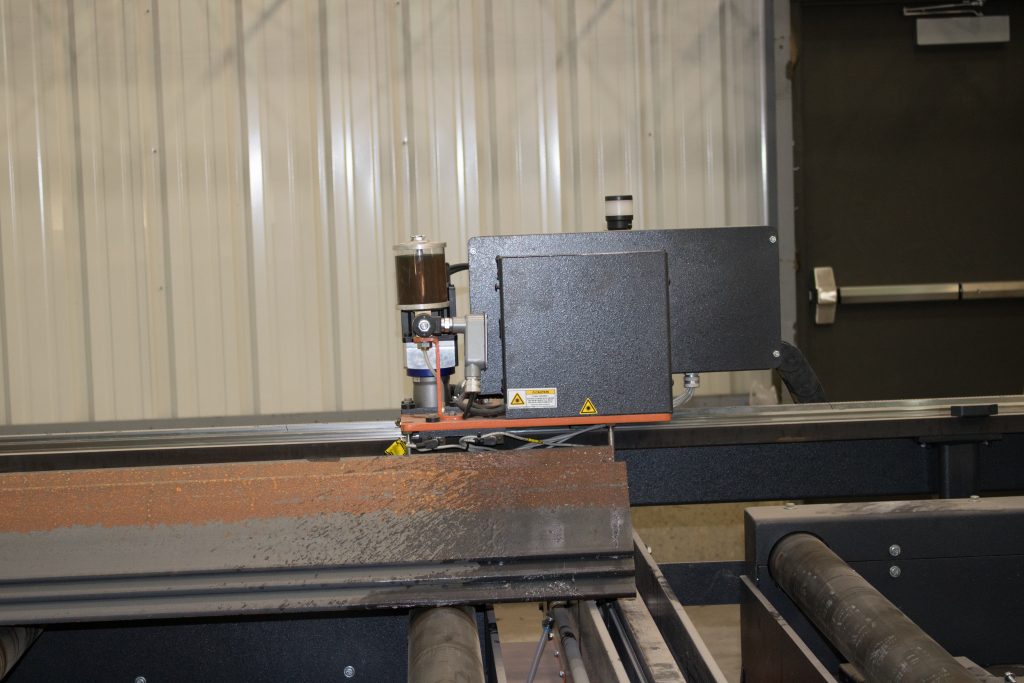 Contact Us For More Information